Do you use Moulage in your workplace or for clients? And have you ever wondered what your risks and liabilities were? Does yours or the client's insurance cover any mishaps or adverse reactions?
We cover a few points below to help you assess your risk and prevent any legal backlash from doing the thing that you love!
Moulage – a little bit of history
Moulage is the French word for moulding or casting and dates back to the 16 th century when wax models were used in the study of human anatomy. It started as the art of applying mock injuries for educational purposes and continues today, often used in nursing, emergency response training and preparedness exercises to simulate wounds and injuries likely to be seen when attending to casualties.
"The application of moulage in a scenario dramatically increases the realism required to overcome the initial shock factor when responding to a real-life emergency situation" says Nola Pearce, our in-house Moulage Specialist at TraumaSim Group.
In early moulage times, clinical educators used a variety of home-made recipes from everyday foods in the cupboard like oatmeal, coffee grounds, chocolate syrup, pasta and more, used to create many injuries that they needed to portray.
Moulage products have evolved from the film and TV special effects world dating back to the 1940's. Simple greasepaint makeups and latex prosthetics were common place. Over time, while products have improved for Film and TV use, the moulage world has cherry picked useful products that not only look realistic on camera but respond well to medical assessment and treatment.
Choosing the right Moulage products
Silicone vs Latex
Currently, the primary materials used as a basis for 3D moulage for the creation of wounds and injuries is latex or silicone. Both products are polymers known as "elastomer" and can appear quite similar. Whilst both are rubber products, they are chemically very different from each other and have differing properties and price.
If you find yourself presented with the option between the two, it is highly recommended that you evaluate the attributes of latex vs. silicone to decide which one is right for you!
One of the most important characteristics of any material used in medical application has to do with its biocompatibility, which is the products ability to perform its intended function without causing undesirable side effects.
At TraumaSim, our preference is for the use of silicone as the allergy rate of latex amongst people is significantly higher. Research indicates that between one and six percent of people are allergic to latex but with so much product utilised in the healthcare industry, this increases to 10% amongst health professionals.
Symptoms of latex allergy vary from itchy rashes to potentially life-threatening anaphylaxis. Avoidance is the best way to manage this as repeated exposure to latex can escalate the immune system response.
Whilst thought to be extremely rare, a small percent of the population may be allergic to silicone. However, often this reaction is due to other materials used at the time of production. Pure silicone is considered hypoallergenic. It's important to note that silicone comes in a variety of types as follows:
Medical-Grade Silicone
This is often completely free of allergens, and you'll find this type of silicone mainly used in the medical profession because it's the safest type. Items like catheters, facial implants, and baby bottle teets, are all examples of products that will be made out of medical- grade silicone.
Industrial Silicone
This type of silicone is found in products such as accessories and household products. The problem is that it's not as pure as medical-grade silicone and it doesn't undergo as much testing, which means that it's more likely to cause allergies due to contaminants that can be present in it.
At TraumaSim Group, we use medical grade silicone for the manufacture of our entire product range and these are supported by a quality range of purpose made moulage consumables. In 14 years of using silicone on many thousands of roleplayers (simulated patients), we have seen only 2 minor rashes.
Make-up or Home-Made vs Moulage
In addition to removing risks of allergic reactions or any adverse reactions as discussed above when comparing latex and silicone, using purpose made moulage products will give you the desired outcome in the most effective manner. Instead of blending a variety of your own makeup collection with a range of home-made solutions, perhaps using an already pigmented powder specifically developed for the intended purpose will halve your time and possibly cost?
We know these decisions can come down to budget and the ability to stretch money across a range of solutions is very admirable, but does it still come at a cost? And is it really saving you money? Remember, your time also has a cost. And will the money saved be enough to cover any insurance or legality claims in the event of an adverse reaction?
As the use of moulage in simulation has grown, so has the availability of a range of brands and products around the globe have been developed specifically for this application. Initially starting in the Film & Theatre world, the need for medically accurate wounds and injuries that represent real-world trauma is preferred over fancy special effects and Halloween horror type makeup.
Professional grade moulage products have been manufactured under laboratory conditions and have been tested to ensure they are safe for their intended purpose but also represent in the most realistic manner. An enormous amount of research and development has gone into producing realistic paints, powders and simulated bloods to assist customers in achieving the most effective moulage attainable.
At TraumaSim Group we're a proud Ben Nye distributor and highly recommend their professional products for the most amazing results.
As a professional organisation leading the industry in moulage application and solutions, TraumaSim Group are passionate about realism and always deliver high standard products and services, ensuring the customer receives the desired outcome without issue or further adversity post-event.
This is done by ensuring the right people have the right tools to do their job to the best of their ability!
Risk & Liability
As a Moulage Technician, you may be required to work in a variety of situations and customer venues. This can range from a University or Hospital Simulation Centre to out in the field (literally) with a Defence or Emergency Response Team undertaking preparedness training. In all of these situations, Product & Public Liability apply and you are responsible for ensuring the safety of the people you are working with.
Above, we discussed the use of professional grade products in moulage application over home-made recipes to minimise risk of allergic or adverse reactions in-situ. Another benefit to purchasing professional grade products is the availability of Safety Data Sheets - documents that provide critical information about hazardous chemicals and are used by businesses to assess the risks associated with its use in the workplace. A business or client new to moulage products and services may question the products being applied and request copies of such documents. Would you be able to provide this information if asked?
Even though the food products you have bought to cook up a batch of blood are considered safe to use, once you combine them for a purpose different to the manufacturer's original intent, this increases your risk and liability if there is an adverse reaction. However, in the event of an allergic reaction, if you are able to produce a SDS for the products being used and can show you have taken all diligent steps in preventing the occurrence, this will be in your favour when the incident is being reviewed.
At TraumaSim Group, we keep a folder with an SDS for each product we use in the manufacture of our product range.
It is kept within access of all staff and readily available upon request.
Industrial Manslaughter
With Industrial Manslaughter laws now enacted in every state in Australia, it is wise to consider the worst case scenario when evaluating risk for employees and personnel when providing services and products to clients. It is advisable to ensure the following:
All products used are covered by Product Liability;
Safety Data Sheets (SDS) are available for all chemicals or hazardous products; and
Use only professional grade products designed for their intended purpose.
Now more than ever, workplaces and their team(s) responsible for safety and risk are under the spotlight and must ensure every effort is made to reduce any risks that could be harmful to the workplace and it's personnel. In the event of an incident, all of the above points will be taken into consideration when investigating a workplace incident or accident to ascertain if the business and its key stakeholders took all reasonable steps to prevent the occurrence.
To ensure you are positioned to protect yourself from any SafeWork or legal claims as a result of an adverse reaction to moulage, we strongly recommend you review your Product and Public Liability insurance coverage and seek guidance on the relevance of the SDS register in your personal situation.
If you're keen to hear more about these Industrial Manslaughter laws and how they could impact First Aid Training, watch our webinar session with Pragma Law here:
Summary
TraumaSim Group are passionate about realism in training and believe moulage is a high impact value add to any simulation or scenario. We're aiming for best practise across the industry and around the world, resulting in the application of quality, medically accurate moulage that is professional, consistent and visibly accurate regardless of the simulation, venue or Technician.
The highly experienced TraumaSim team has been delivering moulage services, training and workshops to a variety of personnel around the globe since 2008. We can apply medically accurate wounds and injuries to manikins or live role players in-situ, and we also offer engaging and informative hands-on workshops supported by a vast range of quality moulage consumables.
If you're looking to elevate your moulage or take it from a hobby to a rewarding professional career-path, we can help! Reach out to the team on 1300 411 080 (int'l +61 8 6109 6658) or via email to info@traumasim.com.au.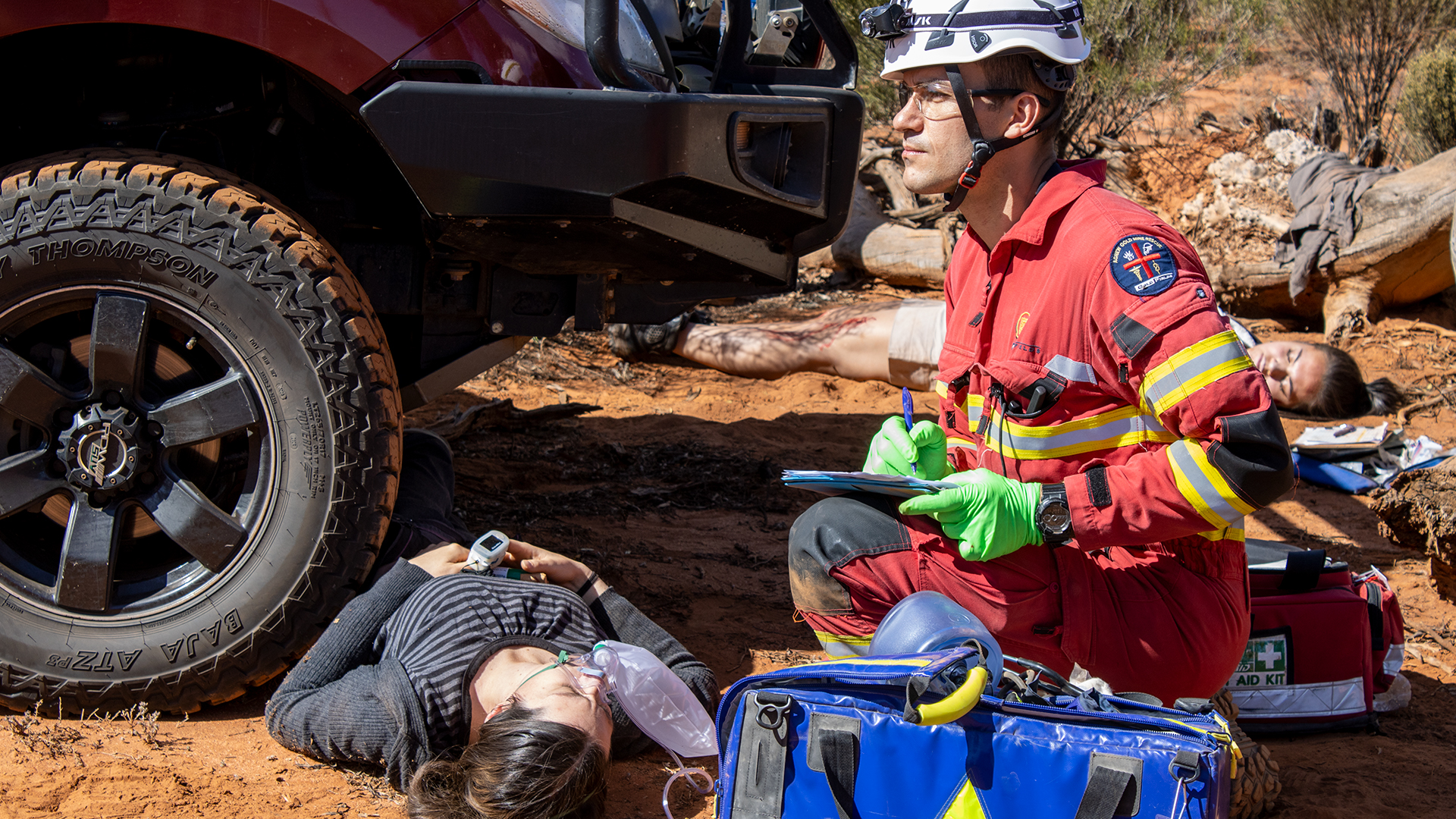 See more on our Facebook page: CMEWA Facebook Album
Reference links:
https://blogs.cdc.gov/publichealthmatters/2020/10/moulage/
https://en.wikipedia.org/wiki/Moulage
https://www.betterhealth.vic.gov.au/health/conditionsandtreatments/latex-allergy
https://allergyfacts.org.au/resources/help-sheets/latex
https://www.weddingbycolor.com/silicone-allergy/