On 12 August 2020, the Australian Industry and Skills Committee (AISC) endorsed the release of new versions of eight first aid units of competency within the HLT Health Training Package. These updates have been made to reflect industry best practice, expectations and current regulations, and are now available on the National Register www.training.gov.au.
The HLTAID First Aid Competency Standards were developed to provide a set of robust, industry-supported standards for people providing First Aid to others.

A team of industry professionals and stakeholders reviewed recommendations with the aim to drive improvements in First Aid Training and ensure quality education is being delivered to all Australians. Below is a table from ASQA's site listing the newly endorsed first aid units of competency.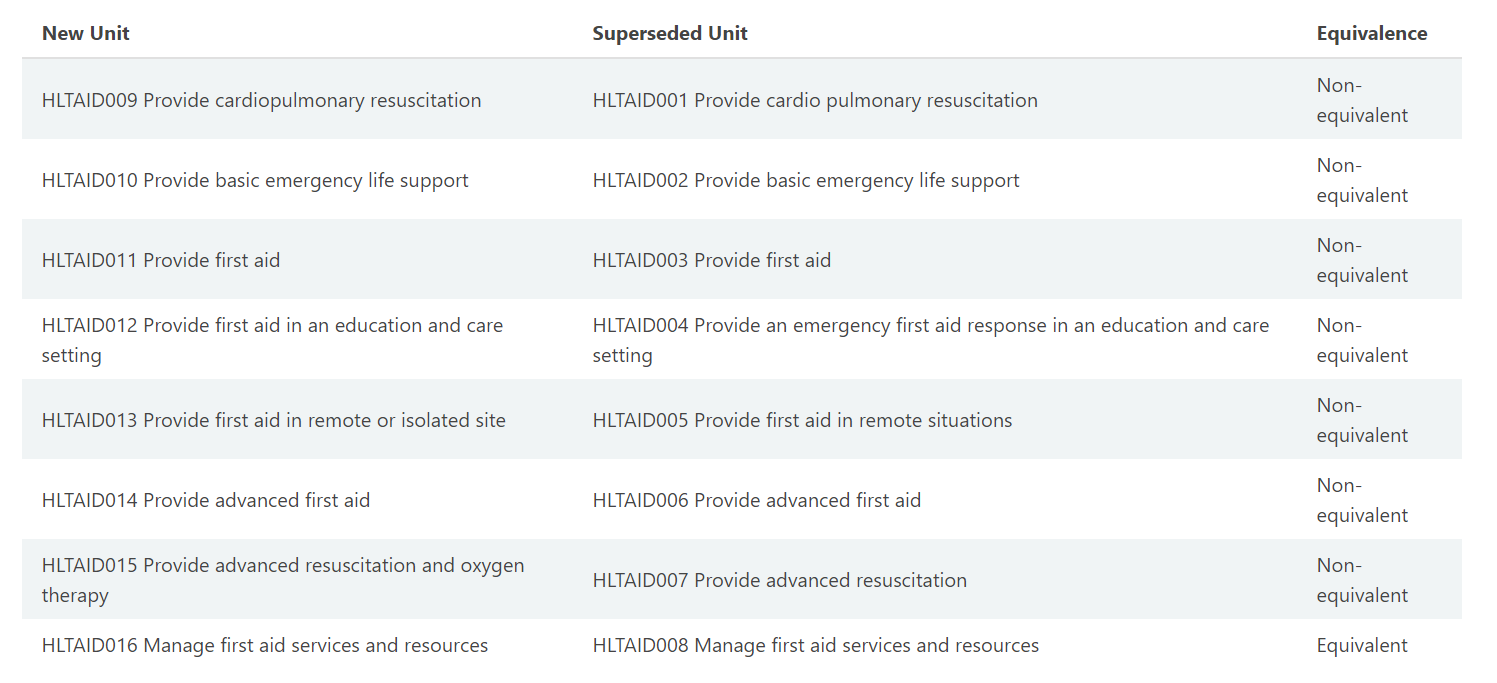 A significant change to note is the inclusion of teaching tourniquet application and haemostatic dressing via the use of physical training aids when delivering the following units:

HLTAID013 - Provide First Aid in remote or isolated site (previously HLTAID005)
HLTAID014 - Provide Advanced First Aid (previously HLTAID006)
HLTAID015 - Provide advanced resuscitation and oxygen therapy (previously HLTAID007)
What does this mean for you?
If you are a pre-approved RTO, you would have received an invitation with instructions of how to opt-in to apply for the new first aid units. This opportunity closed on 1st November 2020.
Those that were not pre-approved, and all other RTOs, are able to apply to add these units to their scope of delivery and can so via the ASQA asqanet Change of Scope of Registration process. See more information here: https://www.asqa.gov.au/rto/change-scope-registration
Any RTOs that are not regulated by ASQA can, and should, engage with their own regulator regarding registration requirements.
If you choose to opt-in or apply to add these units to your scope delivery, the next step is writing your course curriculum and preparing new material to meet the competency requirements. Then, it's choosing the right practical training aid!
Simulation and realism in training is growing globally, with a heightened focus on preparing clinical students, first responders and civilians alike to respond effectively in the event of an emergency. Driven by a passion for improving practical skills training within all emergency services and healthcare fields, creative thinkers around the world are developing products to add realism to scenario based training and exercises.
These range from basic CPR manikins to high-fidelity units with technological feedback and app integration, to medically accurate silicone prosthetics that mimic bleeding – all used to simulate almost any wounds, injuries or medical procedures you can think of! And scrolling your way through pages and pages of irrelevant or over budget products can leave you all Google'd out.
When looking for the right product to add to your practical training inventory, realism and functionality is extremely important. Be wary of products that are based around the theatrics and special fx of film and seek those that focus on the medical solution being provided, using latex-free silicone to reduce the risk of allergic reactions.
For smaller training organisations and individual trainers, value for money will be critical in assisting them meet these new requirements. Look for repeatable use products that are durable, cleanable (ensuring to meet COVID guidelines) and can be stored for years of ongoing use. And don't be afraid of shopping locally as Australia is not only leading the industry in the development of these training aids, but priced competitively when compared to international comparisons.
If you're still unsure and would appreciate some guidance in this area, we'll be hosting an Information Day in February 2021 to help you navigate through all the available options, for all budget levels, including tips & tricks to easily add realism to your training.
If you're like to know more about this event, please provide your email via our subscription page here: TraumaSim Haemorrhage Control Training Aid Info Day
We wish you all the best with your new training and hope it brings an element of both realism and fun to your delivery!